Author's courses
Teachers: Hans Ovando, Nicolas Pierot, Vera Nikandrova, Vladislav Panchenko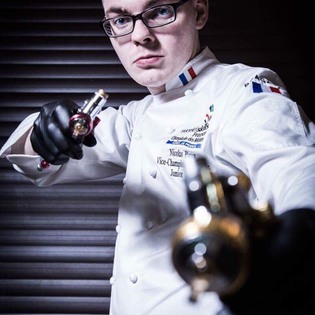 Nicolas Pierot
Pastry chef with work experience in such famous pastry shops as Jean-Paul Hevin (Paris), Meert (Lille), twice Champion of France, Sous-chef of the Cacao Barry Academy in France, vice-champion of the world junior pastry championship, and holder of gold and silver medals of many international competitions in the field of pastry arts.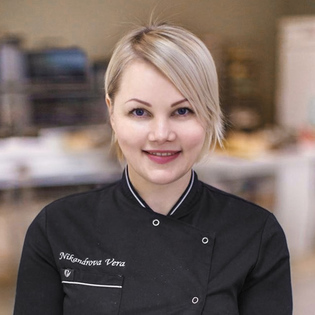 Vera Nikandrova
Degreed international consultant on Pastry Art. Attended classes by Maria Selyanina, Xavier Barriga, Yann Duch, Javier Guillen, Frank Haasnoot, Hans Ovando, Ekaterina Swarovskaya, Andrei Kanakin, Olga Van Jung.
Cheesecake "Sibirika"
Очень нежный муссовый десерт с легкой ягодной начинкой. Потрясающе рассыпчатая песочная основа, с ней нужно обходиться предельно аккуратно. Дегустаторы были приятно удивлены, вкус самобытный и запоминающийся.
Caramel chocolate and coffee flavor tablet
Отличный урок по оправданной цене, который окупит себя с первого заказа)
Спасибо за возможность иметь авторские рецепты пот первоклассных Шефов!
Pecan-Toffee Tartarlette
Приготовила тарталетки Пекан-тоффи по рецепту Веры Никандровой. Понятное изложение материала, приятно слушать Веру, объясняет профессионально, доходчиво. Помимо рецепта я получила знание многих кондитерских терминов и названия процессов. Тарталетка очень вкусная, вкус сливочно-кофейный-карамельный. Меренга такая вкусная получилась, мы ее съели раньше, чем тарталетки готовы были. Пришлось орешками готовые изделия украшать!