​Baking courses
Master classes on making travel cakes, viennoiserie and yeast dough based products.
Teachers: Ekaterina Kurbatova
22:43
Ekaterina Kurbatova
14:01
Ekaterina Kurbatova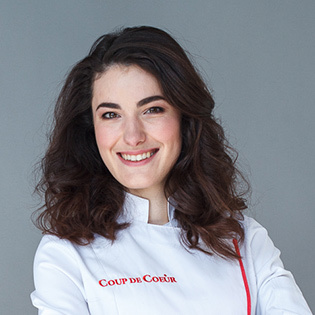 Ekaterina Kurbatova
Practicing pastry specialist. Finished course "Cakes and individual cakes" at the International School of Pastry Olivier Bajard (France). Attended classes by Nina Tarasova, Tatiana Verbitskaya, Patrick Casula, Quentin Bailly, Hans Ovando, Ekaterina Swarovskaya, Andrei Kanakin, Olga Van Jung and others.
Chef-instructor at the "Coup de Coeur Pastry Studio"
Hazelnut travel cake with caramel (Subtitles)
Не устаю благодарить девушек Coup de Coeur за проделанную работу - как легко готовить по Вашим онлайн-урокам! Казалось бы, что может быть особенного в кексе? Но одно лишь перечисление составляющих фундучного кекса - соленая карамель, крем шантийи на шоколадном ганаше, глазурь "Гурман" с орешками - заставляет чаще биться сердца сладкоежек и мечтательно вздыхать! Используя этот рецепт, я столкнулась лишь с одной проблемой - как удержаться, чтобы не съесть все ингредиенты по отдельности еще до того, как кекс будет готов! Это очень вкусно!
Travel cake with cranberries and pistachio (Subtitles)
Приготовила шикарный фисташковый кекс! Спасибо за подробный и понятный рецепт! Все разложено по полочкам, настолько понятно, что даже спросить больше нечего. Получился рассыпчатый кекс с ореховым вкусом фисташек. Ну, очень вкусно! Хочется скупить все остальные рецепты!
Travel cake with dried fruits (Subtitles)
Захотелось кекса, решила попробовать рецепт кекса школы Coup de Coeur, поскольку покупала уже другие рецепты и осталась довольна. Результат превзошел ожидания. Казалось бы, ну кекс, ну ничего сверх естественного. Но нет! у нас не дошло даже до украшения и обработки кекса, чтобы он дольше сохранялся (которое также дается в уроке). Съели сразу все! Он божественен! Однозначно рекомендую. Для меня, не профессионала, было много полезной информации и деталей-секретиков, которые я не знала, и которые однозначно позволяют сделать готовое блюдо лучше по многим критериям и вкуснее.
Baking is a special type of pastry. It may be a base for some pastry goods and individual dessert. Many of practicing pastry chefs ones did their first steps with lessons on making sweet baking goods.
How do you feel about baking? These are all types of travel cakes and croissants, doughnuts and brioches, quiches and all kinds of cookies, sponges for some types of cakes, and many other products of sable, yeast based dough and puff pastry.
An unexperienced person may think that it's simple as that, just to mix ingredients, put the dough into the oven and ready! In reality there're plenty of nuances and subtle points, which are often left without attention. As the result one can get unpleasant piece of dough instead of soft and flavory cake.
Thats why we've prepared for you online lessons and master classes on making popular pastry goods of yeast based pastry, puff pastry and travel cakes.
During these lessons you will learn:
How to choose the right type of flour for different types of goods
The sequences and temperatures of mixing ingredients to obtain the best result
How to make layers of lace in yeasted puff pastry
Which are good conditions for proofing and baking yeast and yeasted puff dough
Technologies of the right frizzing and storage of unbaked products
And you'll learn how to easily bake delicious baking products, which are as good as works of famous pastry chefs.
All online classes are accompanied with detailed recipes that you can download and safe. Moreover, full recipe of a lesson may contain a number of separated recipes for making components of different pastry goods. For example, you can use separately recipes for dough, filling and decor elements.
Make first steps, learn secrets and improve your skills in pastry together with Coup de Coeur Online!