Confiserie
Teachers: Ekaterina Kurbatova, Hans Ovando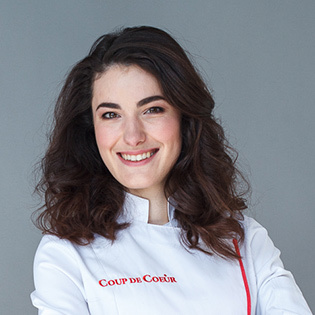 Ekaterina Kurbatova
Practicing pastry specialist. Finished course "Cakes and individual cakes" at the International School of Pastry Olivier Bajard (France). Attended classes by Nina Tarasova, Tatiana Verbitskaya, Patrick Casula, Quentin Bailly, Hans Ovando, Ekaterina Swarovskaya, Andrei Kanakin, Olga Van Jung and others.
Chef-instructor at the "Coup de Coeur Pastry Studio"
Caramel chocolate and coffee flavor tablet
Отличный урок по оправданной цене, который окупит себя с первого заказа)
Спасибо за возможность иметь авторские рецепты пот первоклассных Шефов!
"Confiserie" is the common name for small confectionery items like marmalade, dragees, macarons, cookies, candies, candied fruits. Making these popular types of small sweets has its own aspects and nuances. Teachers of Coup de Coeur Online and invited chefs are happy to share with you these nuances.
In these lessons you will learn:
Technics of making popular macarons and fillings for macarons
How to work with different types of chocolate
Try your hand in making chocolate bonbons
Technics of making different types of cookies and much more
Lessons and master classes on confiserie are intended for all levels of knowledge, and for beginners, and for professionals. Summarizing the results a student does home assignment and gets feedback from the supervisor with up-close look.
This section is constantly refilled with new lessons and master classes, including lessons by famous Chefs.
Learn something new and develop your skills together with online-school Coup de Coeur Online!