Courses
Pastry courses online
Teachers: Ekaterina Kurbatova, Hans Ovando, Vladislav Panchenko, Smbat Tonoyan, Nicolas Pierot, Vera Nikandrova, Elena Konetskaya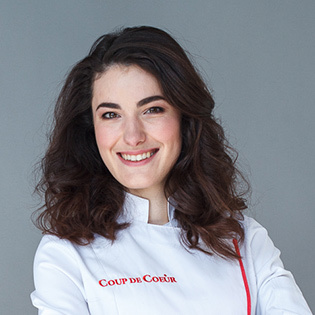 Ekaterina Kurbatova
Practicing pastry specialist. Finished course "Cakes and individual cakes" at the International School of Pastry Olivier Bajard (France). Attended classes by Nina Tarasova, Tatiana Verbitskaya, Patrick Casula, Quentin Bailly, Hans Ovando, Ekaterina Swarovskaya, Andrei Kanakin, Olga Van Jung and others.
Chef-instructor at the "Coup de Coeur Pastry Studio"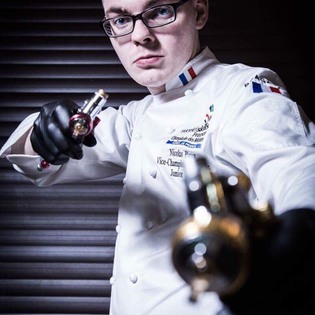 Nicolas Pierot
Pastry chef with work experience in such famous pastry shops as Jean-Paul Hevin (Paris), Meert (Lille), twice Champion of France, Sous-chef of the Cacao Barry Academy in France, vice-champion of the world junior pastry championship, and holder of gold and silver medals of many international competitions in the field of pastry arts.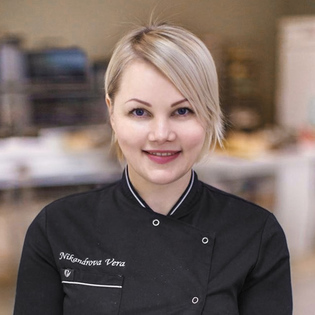 Vera Nikandrova
Degreed international consultant on Pastry Art. Attended classes by Maria Selyanina, Xavier Barriga, Yann Duch, Javier Guillen, Frank Haasnoot, Hans Ovando, Ekaterina Swarovskaya, Andrei Kanakin, Olga Van Jung.
The course "Eclairs" (Subtitles)
Великолепный рецепт! Спасибо за все тонкости о заварном тесте, малиновом ганаше и конфитюре. Очень легкий вкус, несмотря на обильный слой крема на внешний вид. Можно фонтанить дальше разными вкусами и экспериментировать!
Macarons with low sugar content (Subtitles)
Прошла курс по макаронс с "пониженным содержанием сахара".Уроки очень профессиональные, на высоком уровне! Информация, которую дает преподаватель, понятная и доступная!Теперь осталось как можно больше практиковаться, для достижения идеального результата!
Paris-Brest
Почему то всегда обходила стороной рецепты заварного теста с кракелином. Казалось что это так сложно. Но после приобретения вашего урока всё получилось с первого раза. Большое спасибо Екатерине за знания! Так классно всё объясняет, всё по полочкам! Ни на секунду не пожалела, что приобрела ваш урок!
Themed pastry courses Coup de Coeur Online are groups of selected lessons and master-classes of a particular topic. During the course you will get a lot of theoretical material with will help you in your future pastry life, you'll learn plenty on new technics and improve you professional skills.
Lessons are held by Coup de Coeur Online school instructors and by invited chefs who will share their secrets with you. Each course and master-class contains:
Step-by-step video lesson on making a pastry product;
Detailed recipes of a product and the recipes of its components — the base, the filling, the cream and the glaze;
Home assignments: cooking on a demonstrated recipe and detailed analysis of a supervisor;
A supervisor instructor's feedback and answers on questions on the topic;
You can watch lessons and work on home assignments at any time you want. Together with a video lesson you can download step-by-step recipes of all pastry products and also detailed recipes of all its components, like dough, fillings, elements of decor, etc.
Each course can be bought as a packet, all lessons at once, or separated by one lessons progressively after accomplishing previous lessons.
Reveal your pastry talent and learn more together with online-school Coup de Coeur Online!